Many of you have probably heard about integrating the DaRT Remote Viewer component into the Boot Images in ConfigMgr. This functionality enhances the way you can monitor Operating System Deployments when you have ConfigMgr integrated with MDT. In that scenario, you barely perform any work in the Deployment Workbench, so why should you have to open an extra console just to remotely connect to e.g. a failed deployment in order to troubleshoot?
In my daily work I try to streamline the work flows by working from a single pane of glass when possible. That means that you sometimes have to create your own extensions to the ConfigMgr console. That is exactly what I've done for DaRT Remote Viewer, a console extension that leverages the Monitoring functionality of MDT with DaRT components added in the Boot Image.
Download DaRT Remote Viewer console extension
I've made this console extension available on the TechNet Gallery, accessible from here.
Requirements
Before you can go ahead and install this console extension, there's a few requirements that needs to be configured before hand:
Install MDT 2013 with Monitoring enabled on your Primary Site server
DaRT 8.1 from MDOP 2014 (or from MDOP 2013 R2)
Updated MDT Settings package with monitoring added to CustomSettings.ini
Create new MDT Boot Image with DaRT component
Johan Arwidmark has written an excellent blog post on how to configure all of this, that I recommend that you walk through before you continue. Once you've successfully set everything up according to Johan's post, go ahead and follow the installation instructions below.
NOTE! This console extension has not been created to support remote ConfigMgr consoles, so you'd need to use it on your Primary Site server. This functionality may be added in the future.
Installation instructions
1. Extract the Start-DaRTRemoteViewer.zip to C:\Temp\DaRT on your Primary Site server.
2. Copy Start-DaRTRemoteViewer.ps1 from C:\Temp\DaRT to C:\Scripts.
3. Edit DaRT.xml in C:\Temp\DaRT on the line that starts with <Parameters> and replace the value for the following script parameters to reflect your environment:
DeploymentShare (should point to the DeploymentShare root directory)
DaRTRemoteViewer (should point to the DaRTRemoteViewer.exe)
Here's an example row:
<Parameters>-windowstyle hidden -executionpolicy bypass -file "C:\Scripts\Start-DaRTRemoteViewer.ps1" -ComputerName ##SUB:Name## -DeploymentShare "D:\DeploymentShare" -DaRTRemoteViewer "D:\Microsoft DaRT\v8.1\DartRemoteViewer.exe"</Parameters>

4. Browse to <ConfigMgr console root directory>\XmlStorage\Extensions\Actions and create the following two folders:
3fd01cd1-9e01-461e-92cd-94866b8d1f39
ed9dee86-eadd-4ac8-82a1-7234a4646e62
5. Copy DaRT.xml from C:\Temp\DaRT into both of the folders above.
6. Re-launch the ConfigMgr console.
Using the console extension
Now when you right-click on a Device in the ConfigMgr console, you'll get an option to start DaRT Remote Viewer: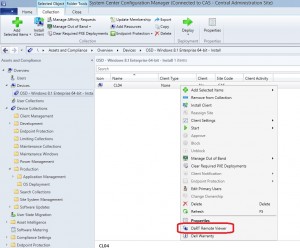 If there's an active Operating System Deployment going on, you'll see that DaRTRemoteViewer.exe launches connecting to the device: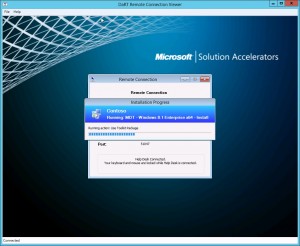 If there's no active Operating System Deployment going on, you'll get a prompt that tells you that the script couldn't find any deployments:



I hope you'll find this console extension useful, and if you have any questions or suggestions on improving the script, write a comment below.
(12686)