A couple of weeks ago I pushed out an update for the Driver Automation Tool which allows you to create your own custom driver package. The reason behind this was to allow for unknown makes and models to be imported while including formatting that is compatible with our Modern Driver Management process. Since then I have since seen several blog post queries asked around how can I add drivers to a vendor package or how to I build my own package, so in case you missed it I am going to cover how do just that.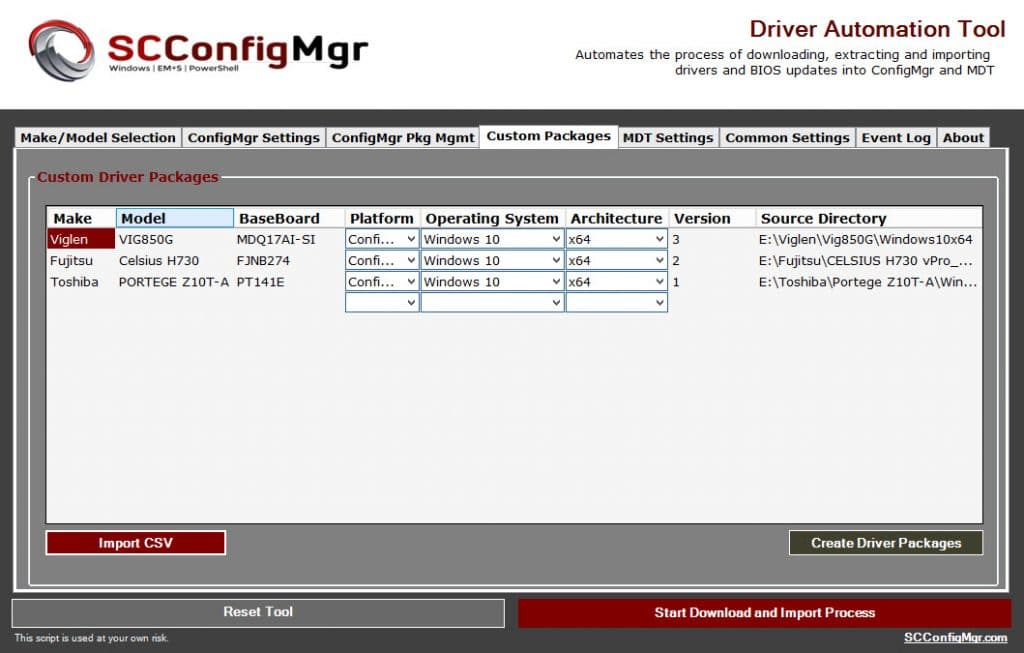 Custom Driver Packages
Introduced in 5.0.1, the custom packages tab allows you to create your own customized packages for both ConfigMgr and MDT. You can of course import drivers via either of the product consoles but the reason for this tab is to keep your driver packages consistent in their naming and description for use with the dynamic deployment process that we call Modern Driver Management.
So lets take the scenario that you have a manufacturer who is not included in the built in manufacturer list within the DAT. All you need to do is follow these steps:
Download the driver packages from the manufacturers website and extract them into a folder.
Open the DAT and go to the Custom Packages tab
Enter the Manufacturer name and Model into their respective fields
On the model of machine you are building a driver package for, obtain the baseboard product value from WMI. This value is used in MDM to match the model to the driver package.
(Get-CIMInstance -ClassName MS_SystemInformation -NameSpace root\WMI).BaseBoardProduct
Enter the value in the BaseBoard field
Select either ConfigMgr or MDT
Select the OS and Architecture
Give the driver package a version number in the Version field
Enter the source directory where the extracted drivers are located into the Source Directory field
Click on the Create Driver Packages button
Note: If you are running ConfigMgr you should use the ConfigMgr Settings tab to connect to your environment first, the same is said for MDT and also select the deployment shares.
Example
Below is an example where a package has been created for a Toshiba Portege Z10T-A;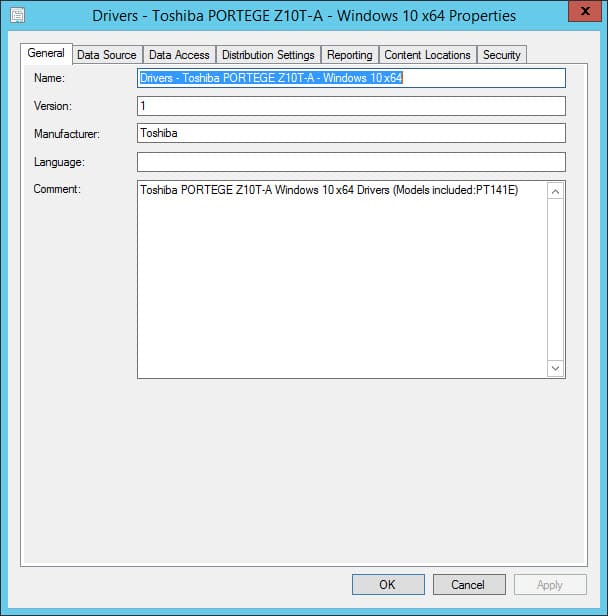 Updating Vendor Packages
There are also cases where you might use this method to update vendor driver packages. For instance where a wireless NIC driver is a couple of years out of date and the vendor no longer provides the latest drivers in their ConfigMgr driver package, mainly due to the fact that the OS supported is Windows 7. Here you can either fully create a custom package using the individual downloads or replace the "wireless" folder with the newer drivers and then import the package as a custom version.
All of this can of course be achieved outside of the DAT itself, but for those who don't want to dive into the world of PowerShell too deeply I hope this small addition helps you out.
Download
Microsoft Technet download link – https://gallery.technet.microsoft.com/scriptcenter/Driver-Tool-Automate-9ddcc010
(8434)