With the release of WIM Witch v1.3.0, she now has new capabilities that were requested by the community. While there have been plenty of functional updates to WIM Witch since its release, this version brings enough change to warrant documentation. The features introduced in this release are all from user requests, and I want to thank everyone who has submitted feedback on WIM Witch.
To download WIM Witch, open PowerShell and use the following command:
save-script -name WIMWitch -path [path to save folder]
Then, simply run the script and follow the prompts.
If you are running version 1.2 or later of WIM Witch, she will automatically detect the latest version and prompt for the upgrade.
Server Updates
WIM Witch now supports Windows Server 2016 and 2019. By simply checking the required version in the "Updates" tab, Windows Server updates are downloaded and applied just like Windows 10 updates have been from the beginning.
After selecting a Server WIM file in the "Source WIM" tab, certain Tabs and functions are disabled. These disabled items are Autopilot, APPX removal, and OneDrive updating, and are disabled because they are not applicable to server operating systems.
When updating a Server Core images, WIM Witch will skip Adobe updates as they are not applicable to Server Core operating system.
WIM Witch only supports the LTSB versions of server operating and it is not advisable to attempt to update a Current Branch version of server. If there is enough demand from the community, I can add that support in a later version.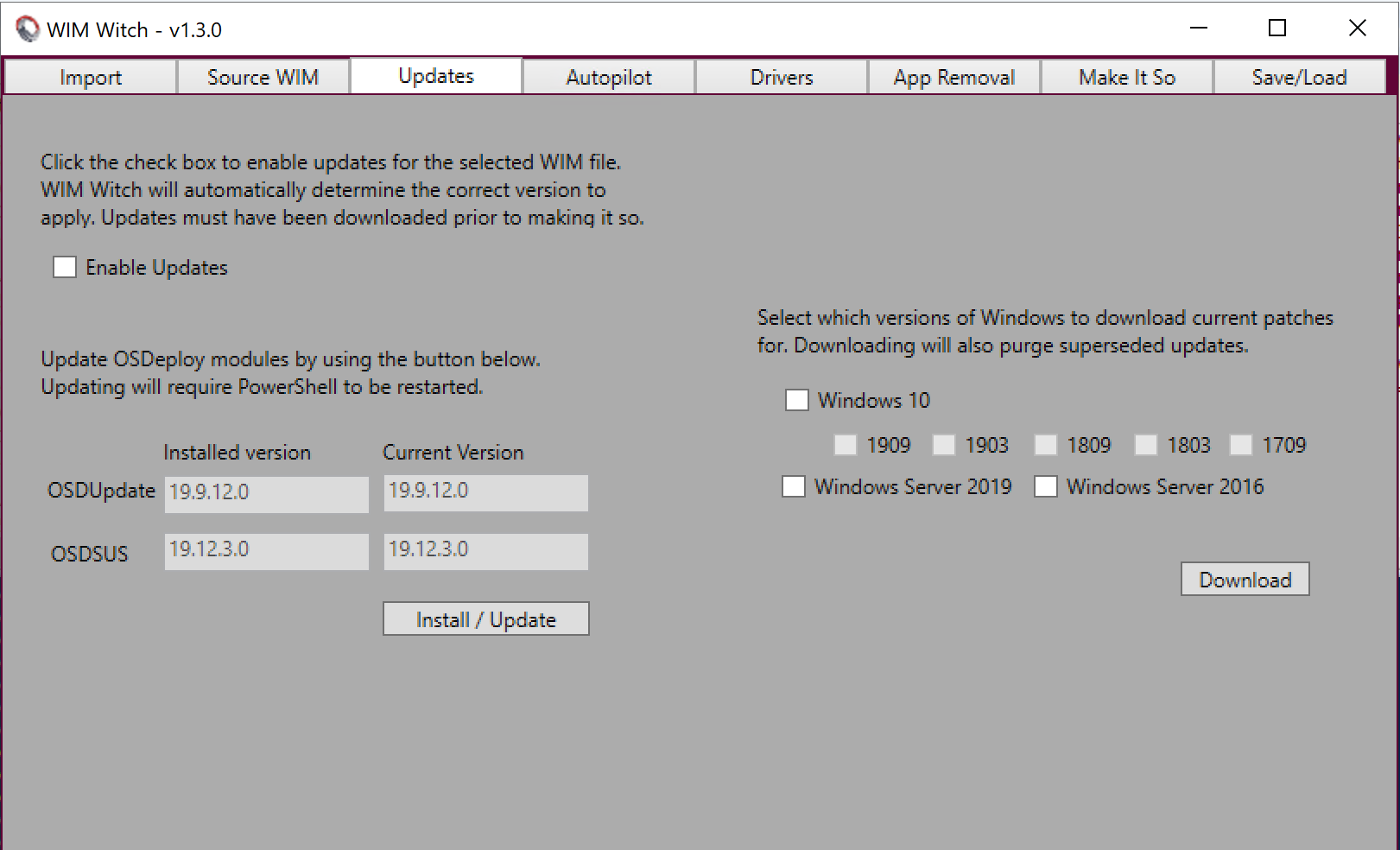 By adding Server support, the underlying folder structure of the updates had to change. In previous releases, the updates folder contained subfolders that were labeled with the release version of Windows 10. Now, the first sub-folders are named after the major operating system.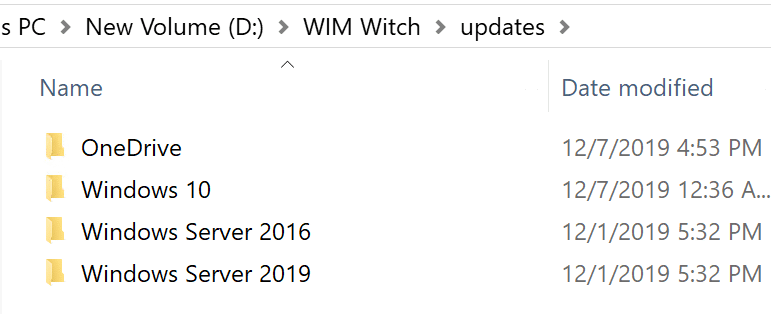 The impact is that any existing updates folder will no longer be used. These folders could be moved to a subfolder called "Windows 10", but it is advisable to take the easy route and just delete them. Once deleted, the updates can be re-downloaded, allowing WIM Witch to store them automatically.
OneDrive
Windows 10 comes with a OneDrive installer that runs when the first user logs in. The installer is frequently out of date, and users are prompted to update this agent if it is. WIM Witch now downloads the latest OneDrive agent installer any time Windows 10 updates are downloaded. To apply the update, simply click the "Update OneDrive client" checkbox in the "Make It So" tab.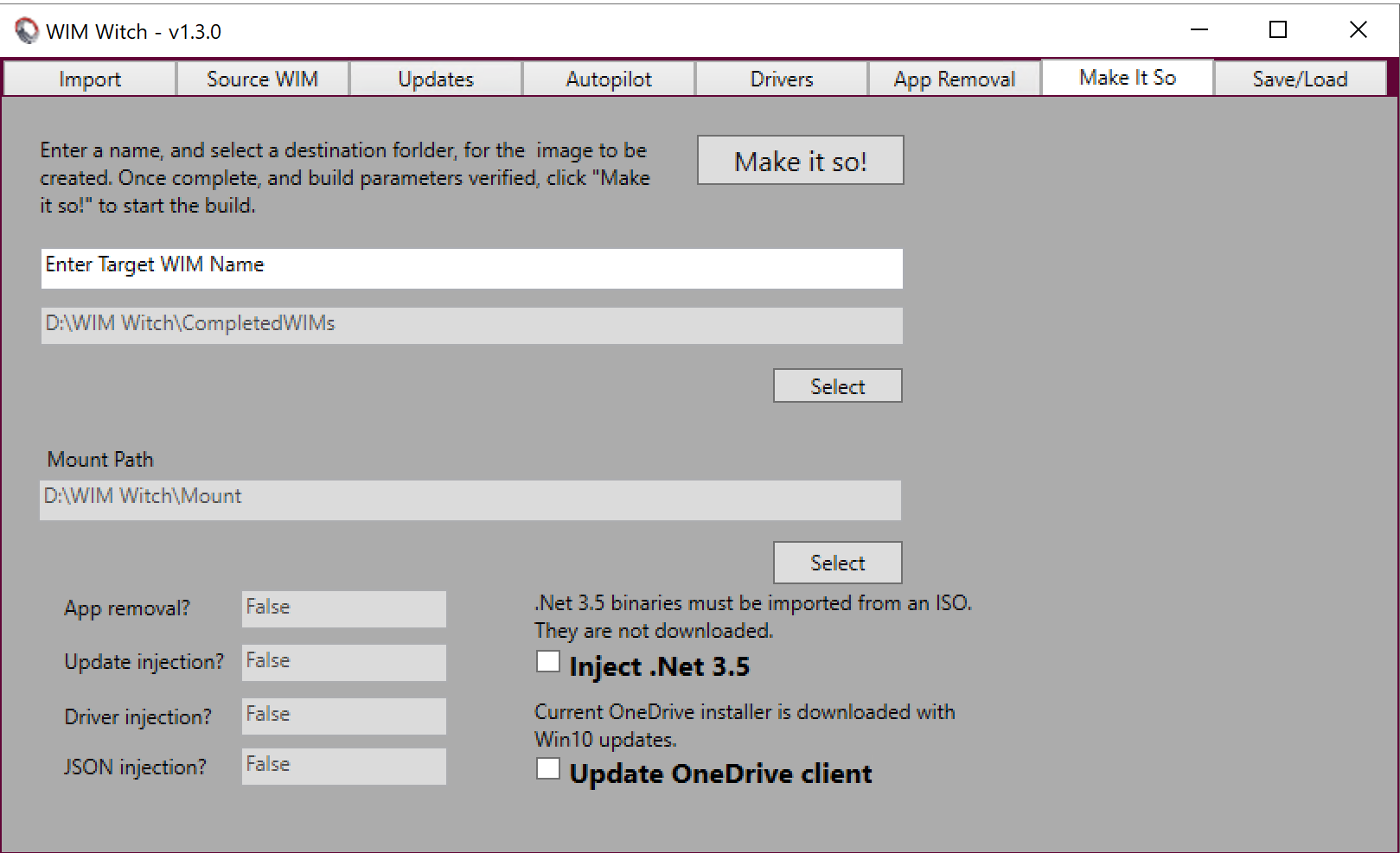 Update Supersedense
In previous versions, all updates were checked to see if they were superseded, and then deleted if found to be. Now, only the updates of the operating system version that is being downloaded will be checked. This allows administrators to keep older updates for other OS's while updating only the ones they wish to update.
Additionally, the -Superseded command line option has been deprecated because of how supersedense is now handled.
Command Line Functions
CLI functions have been overhauled to make them easier to use, and to support the new Windows Server functionality.
-auto
This switch enables WIM Witch to run a saved file, or a batch of saved files.
-autofile
This switch tells WIM Witch to run a specific saved configuration by providing the name and location of a file. It will not work if the -auto parameter is not provided.
Example: WIMWitch.ps1 -auto -autofile d:\wim witch\configs\server2016_updated
-autopath
This switch tells WIM Witch to run every found saved configuration in a give path. This is useful if multiple images need to be created. It will not work if the -auto parameter was not provided.
Example: WIMWitch.ps1 -auto -autopath d:\wim witch\configs\
-UpdatePoShModules
This switch tells WIM Witch to update the OSDUPATE and OSDSUS modules if they are found to be outdated. Updating the modules will require PowerShell to be restarted, so this switch is not recommended for fully automated tasks.
Example: WIMWitch.ps1 -UpdatePoShModules
-DownloadUpdates
This switch allows WIM Witch to check for, and download, new updates for a given operating system. The operating system version must be supplied.

-Server2016
This switch tells WIM Witch to download updates for Server 2016.
-Server 2019
This switch tells WIM Witch to download updates for Server 2019.
-Win10Version
This switch tells WIM Witch to download updates for Windows 10, and requires the version to be specified. The options are All, 1709, 1803, 1809, 1803, 1909. All tells WIM Witch to download for every supported version of Windows 10.
Thank you again for using WIM Witch. The reception it has received from the community has made undertaking this project worth the time I have invested. Please let me know what you think!
To read the previous walk though of WIM Witch, which contains discussion around the remaining features, please use the following link: https://msendpointmgr.com/2019/10/04/wim-witch-a-gui-driven-solution-for-image-customization/
(4796)