Introduction
When we reach November month in Scandinavian countries it always starts to become dark, cold, and very rainy. This is a season that screams for indoor activities and I often am fortunate to take my family on vacation off-season. This year was no different and while flying to my destination I had 5 hours to just sit and be able to do nothing else than feed my 3 children with food, drinks, and tablets and finally get to read my newly acquired book from Christiaan Brinkhoff, Sandeep Patnaik and Morten Pedholt.

We often hear from Microsoft that Windows 365 is the Windows in the cloud or Windows on any device. That is pretty cool if you think for a moment. A true SaaS solution delivered on a subscription and very easy to get started with.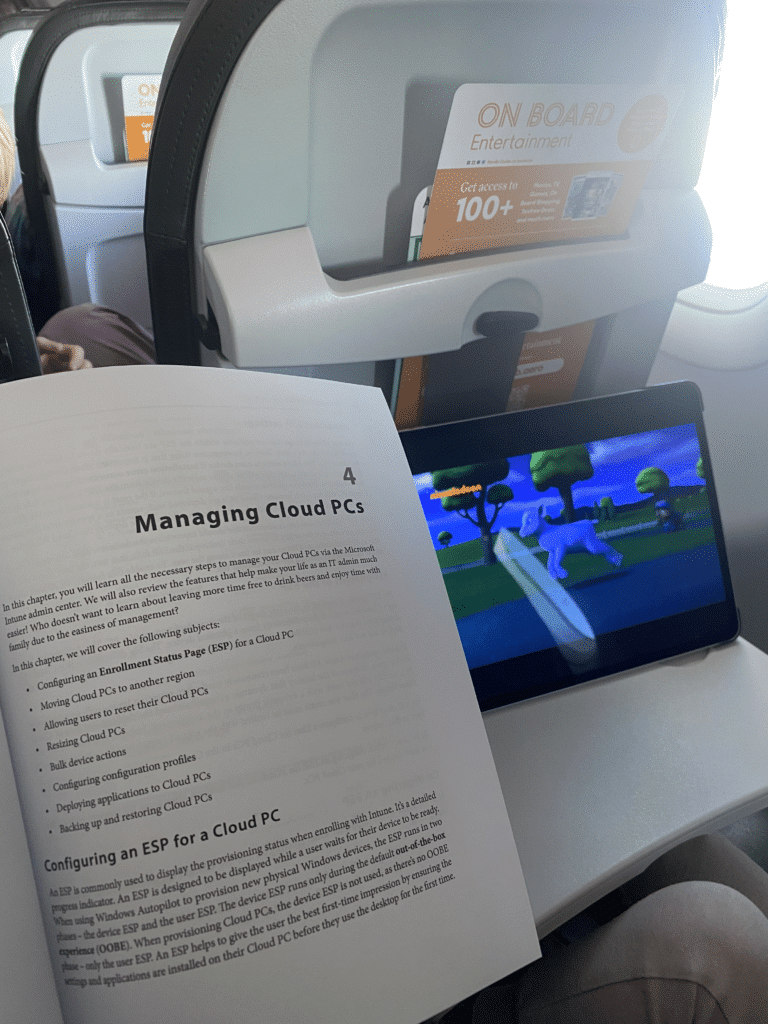 Summary
By reading the book you get no less than 8 chapters and 431 pages! (there are 9 but the last is not about Windows 365 but about the community around it) filled with spectacular information on what Windows 365 is, from licensing models to deep troubleshooting.
If you are in a position where you need to further develop your current VDI with less administrative work or are just curious to see what a personal persistent virtual machine can do in an environment like yours, well this book is going to help you develop not only yourself but also help you company succeed without making bad choices. Every time we implement new things we need to be aware of what exists, and how it works to make the best decision that fits your company's needs.

Are you doing lots of acquisitions? Do you need a solution to get a new device up fast? Do you have light hardware and need more power? Do you love simplicity?
These are some of the scenarios that Windows 365 covers and you will be able to read more about it in the book.

In every chapter, you get a summary and also questions that relate to the content you just read about. Furthermore it helps you with links to explore more on Microsoft docs. 👏
Feedback
In every good review, you need to have some feedback that can prepare the book writers for their next adventure. The thing about IT and cloud is that it shifts so fast. This makes it difficult for a book to stay current once it gets printed. Particularly thinking of adding screenshots of a system. I know that it would not be the same without screenshots and very tedious to read if it was all text, but at some point, these graphical interfaces will change and modernize and even maybe change where they are located in the portal. Just be aware of that and if the graphical interface changes, I believe you will still be able to find your way with the great guidance of the 3 W365 musketeers
Recommendation
If you think you know everything there is to know about Windows 365, think again! This book is awesome and I learned a lot. Personally looking into the architecture of the infrastructure and if you know a thing or two about how hard it can be to setup and configure VDI infrastructure, Windows 365 and the whole team did some magic touches here.
Personally love Analyzing, Monitoring, and troubleshooting. Everyone can configure this platform, but can you make it work with your existing infrastructure? Yes, I bet you can and if you stumble across weird errors, well go to the troubleshooting session and you will have some good answers from experts.
I HIGHLY Recommend you to go buy this book and read it!
(0)