Lately there's been reports about random files in Packages is causing a Task Sequence to fail. I've as well seen this on one of my customers running ConfigMgr 2012 R2 (no CU1). The error that is shown in smsts.log is the following:
WinHttpSendRequest failed.
SendWinHttpRequest failed. 80072ee2.
DownloadFileWithRanges() failed. 80072ee2.
and then some rows further down:
DownloadFiles() failed. 80072ee2.
Download() failed. 80072ee2.
Over at the TechNet forums, this has been reported to happen for the Use Toolkit Package (MDT Toolkit package), see this thread. There's seems to be some thoughts regarding why this issue is occurring, where it's believed that it has something to do with the disk drive performance of the system that is being deployed, especially if the system is equipped with a SSD drive. I've only experienced this issue on virtual machines (VMWare) with low disk drive performance (SATA). Perhaps the SAN cache controller has something to do with this, but at this point that's just a theory.
Microsoft is aware of this issue and are currently working for a fix. But for the time being, we'll have to apply a work around. I'll keep this post updated as I found out more about regarding this issue.
Work around
If you're experiencing this issue, you can apply the following working.
1. Open the Task Sequence used for your deployments.
2. At the very top underneath Install Operating System, add a Set Task Sequence Variable step. Configure it accordingly:
Name: Set SMSTSDownloadRetryCount
Task Sequence Variable: SMSTSDownloadRetryCount
Value: 5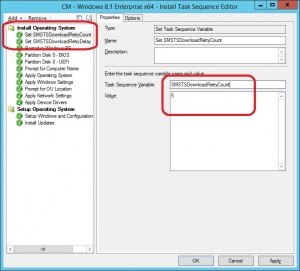 3. Below the Set SMSTSDownloadRetryCount step, create a new Set Task Sequence Variable step, and configure it accordingly:
Name: Set SMSTSDownloadRetryDelay
Task Sequence Variable: SMSTSDownloadRetryDelay
Value: 15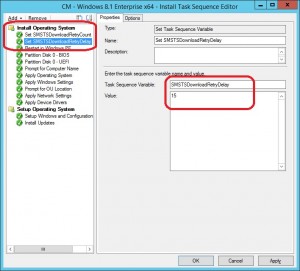 With these two variables set, the issue should be resolved. If you're using an MDT integrated Task Sequence, you could add these to your CustomSettings.ini, but don't forget to add them as custom Properties.
(7037)