Once again thanks to all the members of the ConfigMgr community for their feedback on our Driver Automation Tool. After taking on board your suggestions and issues, version 3.4 is now available.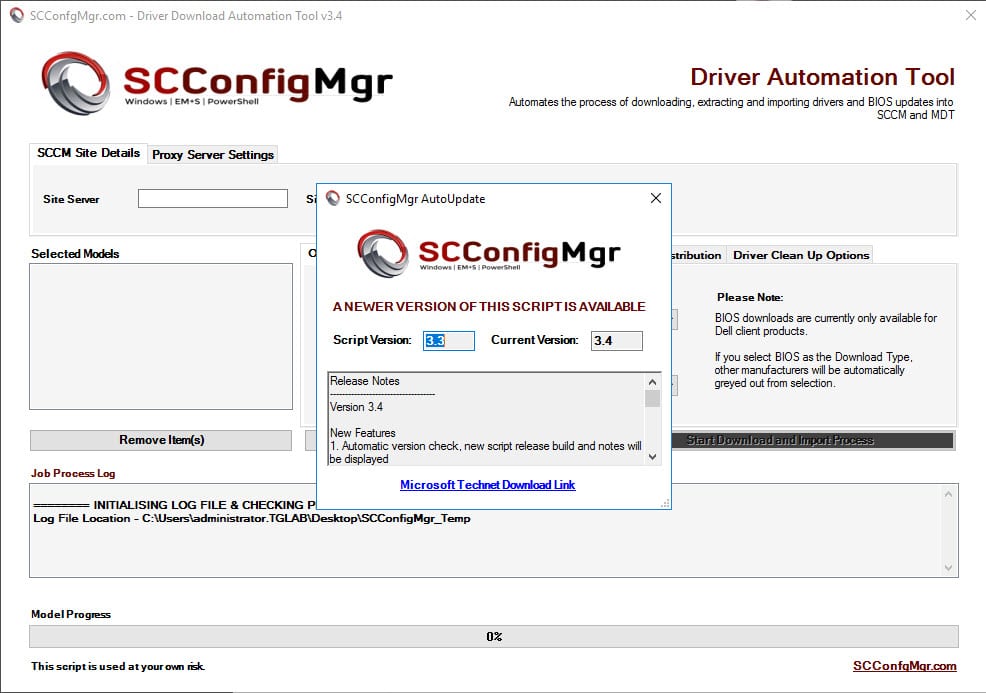 Whats New
Windows 10 Build Support: Build number support for HP systems
Windows 10 Build Support: SCCM & MDT paths include Windows build number for HP systems
Logging: Completely revised logging process. Logs can now be viewed in real time with CMTrace – "DriverAutomationTool.log"
Logging: Verbose logging output to the log file, Job Progress Log used for high level overview
Automatic Script Build Check: New script release build and notes will be displayed if a newer version is available
Clean Up Actions: All temporary cab, xml, msi and exe files and temporary driver extract folders created in the SCConfigMgr_Tmp folder remove on form exit
ConfigMgr Site Detection: The script will attempt to automatically detect the local ConfigMgr management point and site code upon launch
Improved Lenovo Model Download Link Detection
Fixes
Lenovo Windows 8.1 Driver Download Issues

Microsoft Technet Download Link – https://gallery.technet.microsoft.com/scriptcenter/Driver-Tool-Automate-9ddcc010
Windows 10 Build Number Driver Support
Recently HP updated their XML driver file to support driver downloads for the various build numbers of Windows 10. This obviously broke the HP driver download links, so apologies for the inconvenience but it is now fixed in this release. You now have two new options in the Operating Systems drop down list, these being Windows 10 1607 and Windows 10 1703. At present these options are available for HP machines, although I have left Microsoft also enabled as the XML will soon be updated to support the new 1703 downloads.

HP EliteDesk 880 G3 Windows 10 1703 Package
To accommodate the Modern Driver Management process there is an updated version of the Invoke-CMDownloadDriverPackage PS script, which can be downloaded from this link – https://github.com/NickolajA/PowerShell/blob/master/ConfigMgr/OS%20Deployment/Invoke-CMDownloadDriverPackage.ps1 . The new OS build number will be listed in the Package Name so you can clearly identify the different build packages you have within the console. Make sure that you have at least ConfigMgr WebService version 1.2.1 installed, can be downloaded from below:
[download id="6497″]
Improved Logging
This is one of the areas which needed to be overhauled and it has!.
The Job Process Log window in the GUI will still act as a high level overview of the processes running, however a new logging function has been included to write verbose information out to a "DriverAutomationTool.log" file contained within the SCConfigMgr_Temp directory generated by the script. This should provide a more transparent view of what is happening during run time and allow you to troubleshoot any issues or modifications you have made to the script.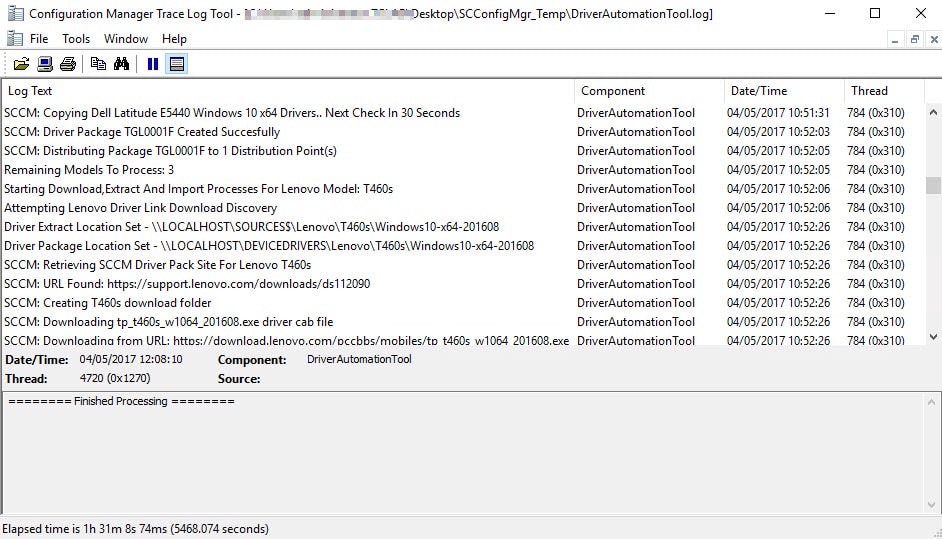 Automatic Script Build Check
In order to ensure you are always running the latest version of the download tool, I have included a script version check feature. Should a newer release be available, a new form will pop up notifying you of the newer build number and provide you with both the release notes and a link to the download page.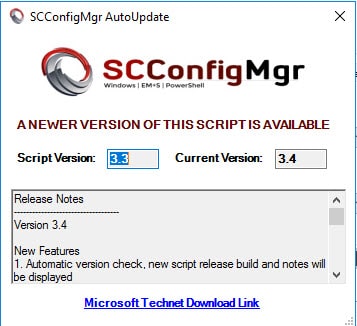 Clean Up Actions
In addition to the Driver Clean Up Options already built into the script, I have now included a clean up action on the form being closed. The following clean up actions are now taken;
Removal of Driver Cab source files. The extracted drivers will remain in place.
Removal of all files and folders associated with the HP driver extract process.
Removal of all XML and Cab files downloaded. This will ensure that you always have the latest model list when launching the script.
Site Server & Site Code Detection
The script will attempt to read the details of the local management point and site code from WMI on launch.
Lenovo Driver Link Detection
A newer version of the Lenovo driver script has been provided, thanks to Joe Parker (https://twitter.com/joe_lenovo) in Lenovo for his continued support to the SCCM community on this.

There has also been a correction on logic for Windows 8.1 drivers.
(5460)