PLEASE NOTE: Some of the details and features in this post have been superseded. Please review our Modern Driver Management and Modern BIOS Management solutions for up to date information.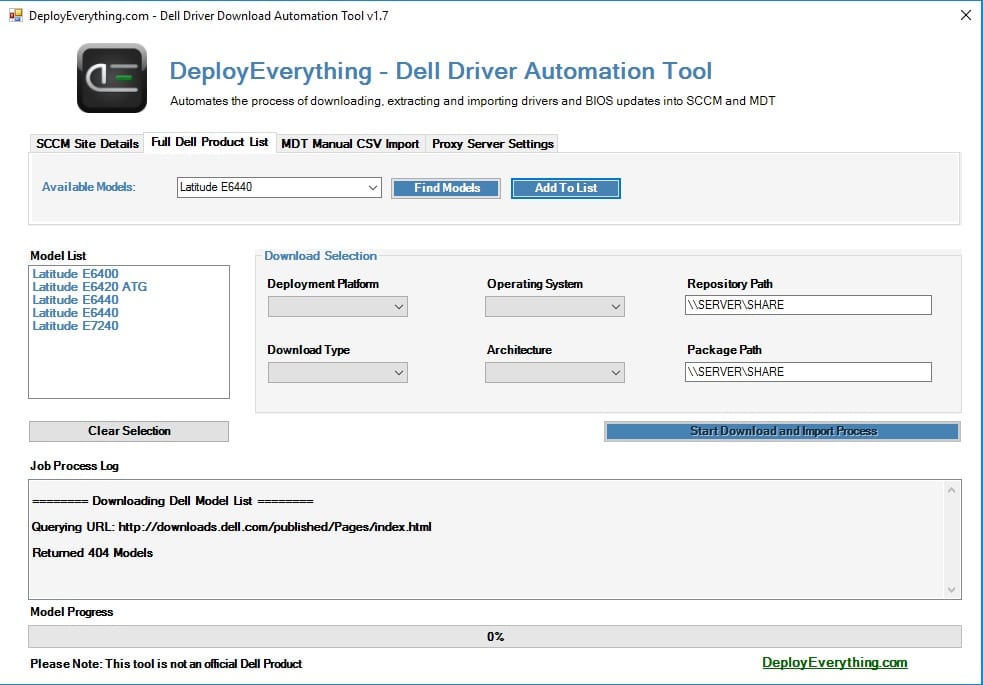 DeployEverything Dell Driver Download Automation Tool
Our previously created Dell Download PowerShell script has been wrapped into a GUI and provides additional functionality that you requested, including the ability to manually select the models you wish to download drivers/bios updates for.
The tool automates the following processes;
Query SCCM for a full list of Dell enterprise client products (Optiplex & Latitude) or Import CSV file containing your Dell models for MDT
Download BIOS updates for each model
Creates a PowerShell Script for the BIOS update
This allows you to deploy a package in SCCM with a program entry pointing to the PS script. As the PS script is updated with each version, you never need to worry about updating this.
Create a BIOS Update Package based on machine mode
Download Driver CAB for each model
Extract the Driver CAB
Import the drivers in the extracted CAB folder
Create a Category based on the machine model
Create a Driver Package based on the machine model and filename
Imports the associated drivers into the newly created Driver Package
The job progress log window will automatically scroll at each step of the process and provide feedback.
Validation Error Screenshot
Job Complete Screenshot
Microsoft Script Library Link –https://gallery.technet.microsoft.com/Dell-Driver-Automation-Tool-dddf1493

How To Run The Script
Launch the script from an administrative PowerShell window using an account with rights to your SCCM site server (if using the SCCM query option).
If you are using the tool for SCCM, the script will use the current machine name as the SCCM site server name, if this is run on a different machine delete this and type in your site server name. Clicking on Find Models will then query SCCM and return a list of Dell Products for you to select.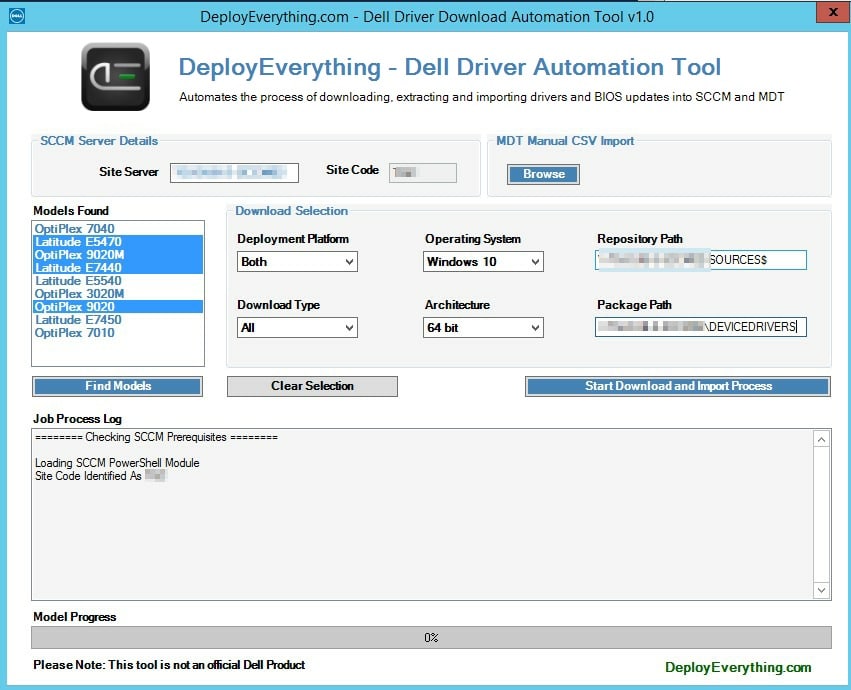 If you are an MDT house and wish to import a CSV containing a list of models, simply create a CSV with a single column and header row listed as "Model", example below: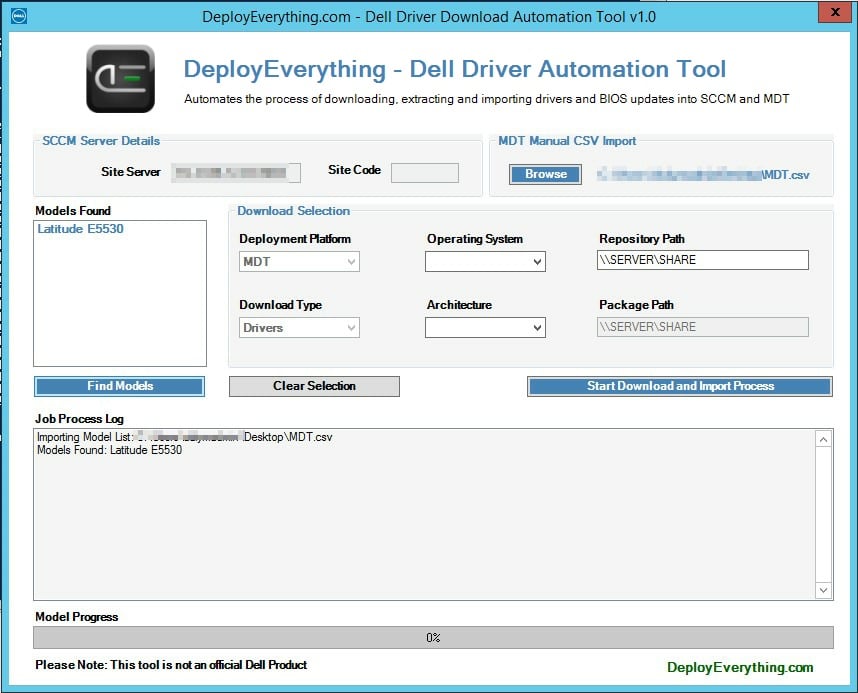 Things To Note
Downloads are transferred via Bits and require direct internet access. If you require access via a proxy please provide this feedback and we will add this into a later release.
Background jobs and multi threading are not yet in this release. If you require this functionality for now you can use the PS script on our earlier post – https://deployeverything.com/dell-ps-automation-driver-download-import-script-for-mdt-and-sccm/
Import driver jobs can take considerable time, this is the same for OEM tools but something to be aware of as the GUI remains static during this process at present. If you are downloading drivers for multiple models you might wish to run this overnight.
Jobs for "Both" and "MDT" are restricted to "Drivers" only.
Change Log
Version 1.0 – Initial release
Version 1.1 – Changed style to tabs and added drop down list for selecting unknown models from the full Dell Optiplex, Latitude and Precision model list.
Added fix up logic for model AIO, 2-in-1 and other non-standard models when downloading SCCM driver
Version 1.2 – Bug fixes
Version 1.3 – Log File Creation (Created in %temp%\DeployEverythingDellLog.txt)
Version 1.4 – Proxy Server Settings Added
Version 1.5 – Added XPS Models As Requested
Version 1.6 – MDT Import Fix
Version 1.7 – Proxy Server Settings Changed to use NTLM where possible. Added download KB and percentage progress for driver pack downloads.
Version 1.8 – Added Driver Import INF Updates for SCCM Import Process
Version 1.9 – Added Download Only Option

New Feature : Full Dell Optiplex, Latitude & Precision listings

Added logic to cater for special models eg. "Rugged" when downloading SCCM Driver Packages

New Feature: Proxy Server Support
Feedback
Please pass any feedback on this tool to [email protected]
Driver Packages – Post Script Run
Driver Package Contents
MDT Job
MDT Drivers Post Script Run
Driver Download Folders
BIOS Update & PowerShell Update Script
Model Folder – Sub-Folders created for BIOS, Driver Cab and Extracted Drivers (Dell Revision Number)
Driver Cab Folder
(17492)