Following a week long community feedback session that was Microsoft Ignite, the Driver Automation Tool has been redesigned and additional features added as per requests received. So let's go through the new layout and features introduced below.
Layout Update
The layout of the tool has been updated to allow for better visibility and flow of features. The initial tab provides you with access to select the core options for the deployment type, the model listings selection has been made much larger per your request. The addition of "ConfigMgr – Standard Pkg (Pilot)" in the deployment platform type assists in the ability to test newer builds of Driver/BIOS packages as part of your testing process. For those of you using our MDM solution, all you need to do is change the "Filter" option to either "Drivers Pilot" or "BIOS Update Pilot" to match based on "Pilot" packages.
The next two tabs in the tool deal with options for ConfigMgr downloads. The first of which is the ConfigMgr Settings tab, here you will find input for the ConfigMgr Site Server name, along with options for distribution and clean up. New in this version is the ability to select the distribution priority of the packages created, which is something quite a few of you had asked for.
ConfigMgr Package Management
The next tab is completely new to this version and allows you to manage your Driver and BIOS package deployment states within the tool. Piloting of Driver and BIOS update packages is obviously something you should undertake as part of testing new builds of both the OS and Driver/BIOS package. In order to make it easier to migrate packages between production, pilot and retire stages I have added this into the tool for you.
Simply select the package(s) you wish to move and then use the actions drop down to move the packages as required. The packages storage paths are maintained therefore you do not need to maintain multiple copies on your storage or redistribute your packages as only the package name is changed.
Package state change in action:
MDT Settings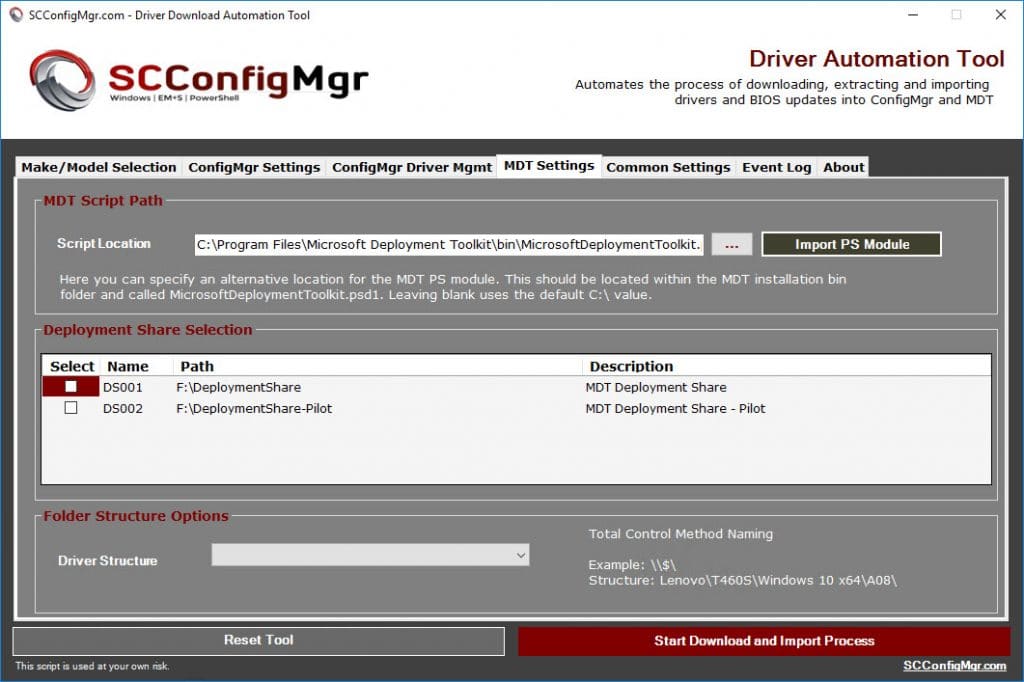 The MDT settings tab is another new addition in this release. Here you now have the ability to specify alternative paths for your MDT PowerShell module as well as the ability to select multiple MDT deployment shares and driver folder structure. At present I have included two options here;
Option 1 – OperatingSystemDir\Make\Model\DriverRevision
Option 2 – Make\Model\OperatingSystemDir\DriverRevision
Below is an example of the structure created by both options when used for a HP EliteBook 1030 G1:
Common Settings
Settings common to all deployment scenarios are now included in the "Common Settings" tab
Event Log
The event log now runs in its own full tab when the tool is running. Additional logging is also included in the log file itself for troubleshooting.
Microsoft Technet Download
The script can be downloaded along with instructions from the Microsoft Technet Gallery – https://gallery.technet.microsoft.com/scriptcenter/Driver-Tool-Automate-9ddcc010
(6555)