In this post we will talk about OSD specific enhancements in ConfigMgr Current Branch 1806, including the much anticipated ability to PXE boot clients without the need for WDS!
PXE OS Deployments – Without WDS
The requirement for WDS until this point was a limiting factor when designing your environment, basically if you wanted sites without server hardware and OS instances to worry about but wanted PXE you would have to look at third party solutions. This has been addressed in 1806 and you are now free to provision distribution points on Windows 10 workstations should you see fit, massively changing the design process.
This is really huge when you consider that many organisations can start planning a world where server hardware and operating systems are no longer a requirement for that small branch office on a slow link.
To enable WDS-less PXE booting simply follow the below when configuring a new DP or edited a pre-existing DP;
Open the Configuration Manager console
Go to the Administration tab
Click on Overview / Site Configuration and select "Servers and Site System Roles"
Now select the site server you wish to edit and select the Distribution Point role, right click and click on Properties
Click on the PXE tab and select the option "Enable a PXE responder without Windows Deployment Services"
You should now have a screen similar to the below;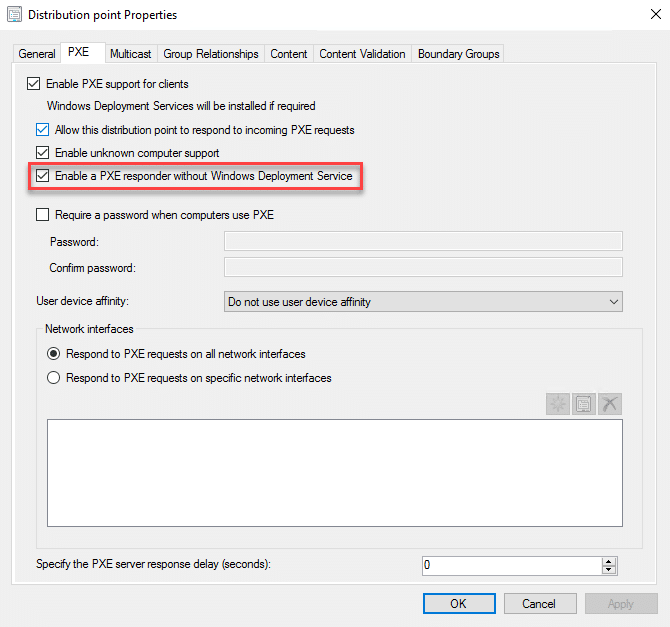 New Distribution Point
If you have a new distribution point you can simply enable PXE and check all the boxes, PXE will then be installed with no Windows Deployment Services console or service created. In the below example I have a fresh DP which has had the role added;

Once the role has been added, a new service "ConfigMgr PXE Responder Service" will appear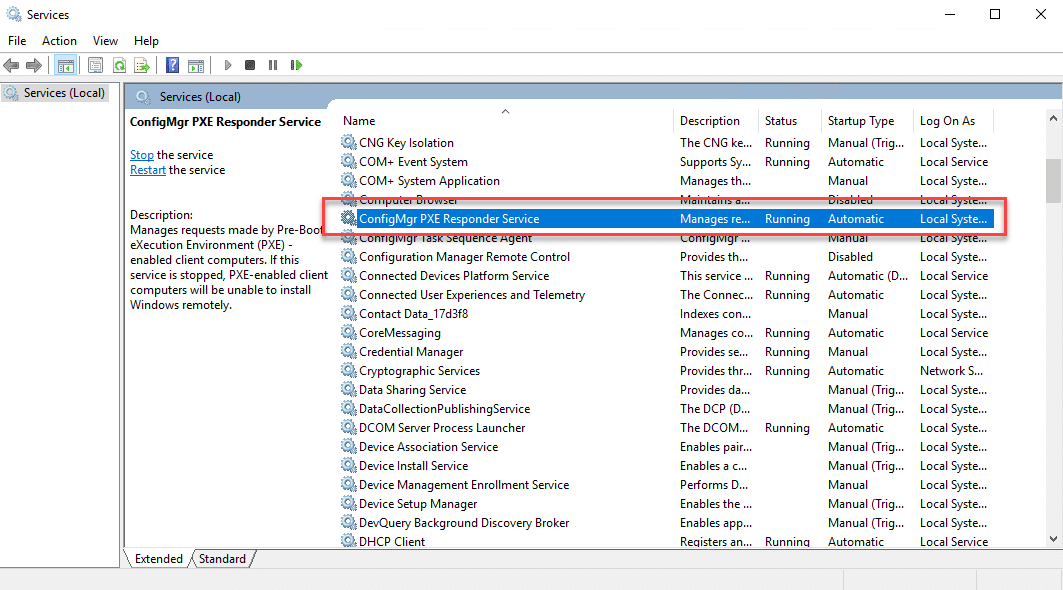 Once the boot images have been distributed you will now be able to boot from the DP;
Pre-Existing PXE-Enabled Distribution Point
Having removed the requirement for WDS, you should now see in the Windows Deployment Services console that the service has been suspended;
Deploy Windows
From the boot perspective there are a few subtle differences you will see when communicating with a WDS-less PXE DP, but other than the cosmetics you will get the same deployment experience;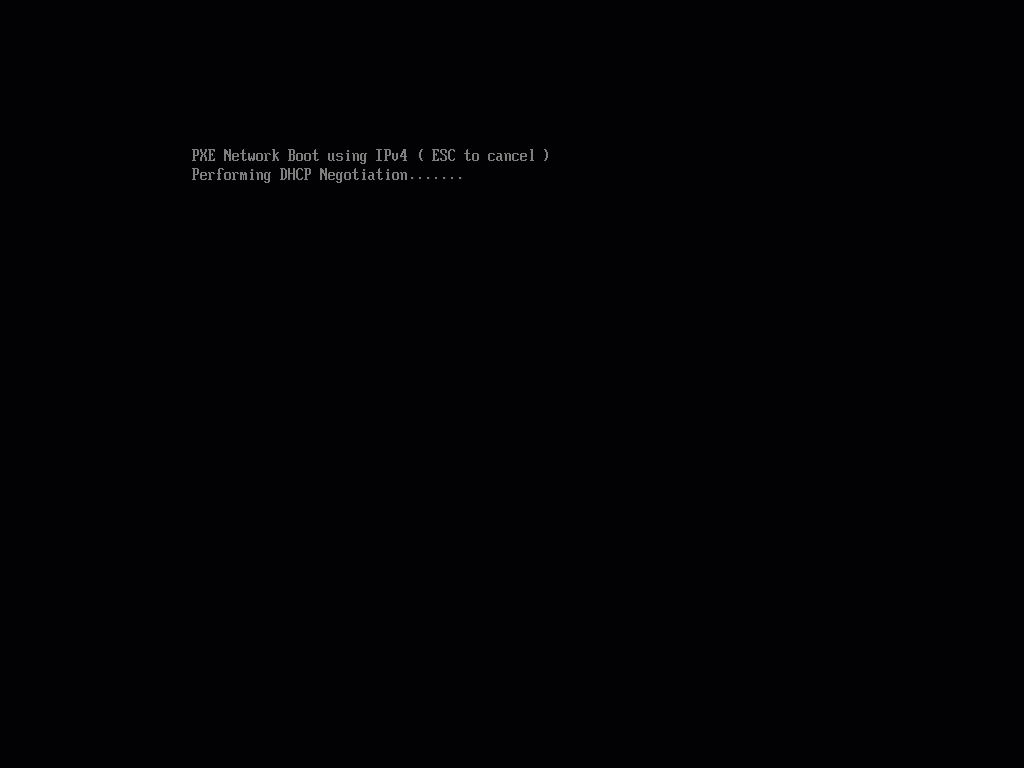 Possible Bug

During tests with a distribution point which previously had WDS running, I received several task sequence request passwords which was strange as the DP settings did not have a password set. If this does happen, please let us know so we can get this investigated further.
Points To Note
If you wish to avail of multicast deployments, you will still need a WDS based PXE distribution point.
Phased OS Deployment Additions
Up until 1802 rolling out a new OS in phases required new device collections and much planning and manual intervention. Phased deployments allow you to take two or more collections and deliver an OS task sequence that progresses based on the success rates within each phase. A new addition in 1806 to this awesome feature is the ability to manually configure all phrases along with the ability to manually move on a deployment phase and finally a monitoring node.
Manually Configure All Phases
Manually configuring each phase gives you more granular control, allowing you to set varying success rates for your deployment;
Moving To Next Phase
Should you want to force a phased deployment onto the next phase, simply right click on the Phased Deployment and go to "Move to next phase". This allows you to circumvent the success criteria if you are confident in the deployment;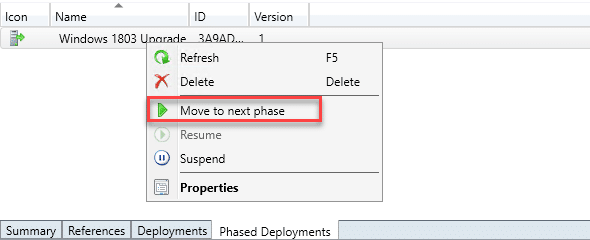 Phased Deployments – Monitoring
New is the ability to monitor your phased deployments. This is accessible in the Monitoring / Deployments section of the console, by simply selecting the deployed phased deployment, right clicking and selecting "Phased Deployment Status";
DISM – Additional Driver Parameters Option
Support has been added to add command-line parameters via the use of the OSDInstallDriversAdditionalOptions variable and selecting the below option on the Apply Driver Package step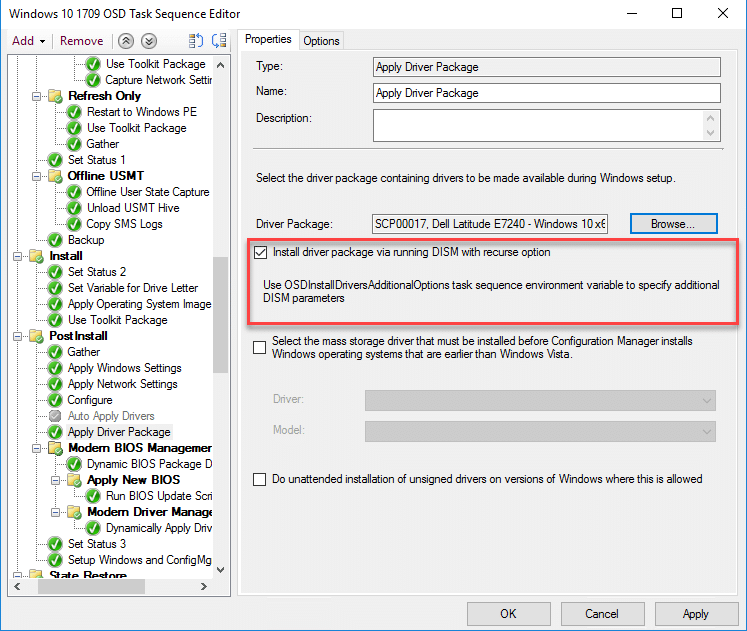 Thanks for reading.
(32360)