Announced by Brad Anderson today at Microsoft Ignite is new feature for Microsoft Intune which goes another step to both enhance and eliminate blockers towards using modern management with Microsoft Intune.
Win32 Application Deployments
The ability to "package" applications for deployment in Microsoft Intune is something that has been highly requested by many organisations making the move to management of devices through Intune. Although there is a fundamental difference in deploying applications through Configuration Manager and Intune, Microsoft is developing tools to provide similar functionality across the management stack. Up until now it it has been possible to deploy applications through Intune, this relied on a single MSI installation file with no external dependencies. In some cases this meant that repackaging of applications was the only method of deploying those business applications, thus being a time consuming process.
Today it is now possible to deploy applications through Intune using the Intune Management Extension without those restrictions, this process creates a packaged container of the setup files along with command line installation and uninstall commands.
So lets step through this awesome new feature
Intune Portal – New Application Type
In this step through guide I am going to show you how your application can be packaged using the new Intune Win32 application packaging tool on an Intune tenant running a preview of the GA release.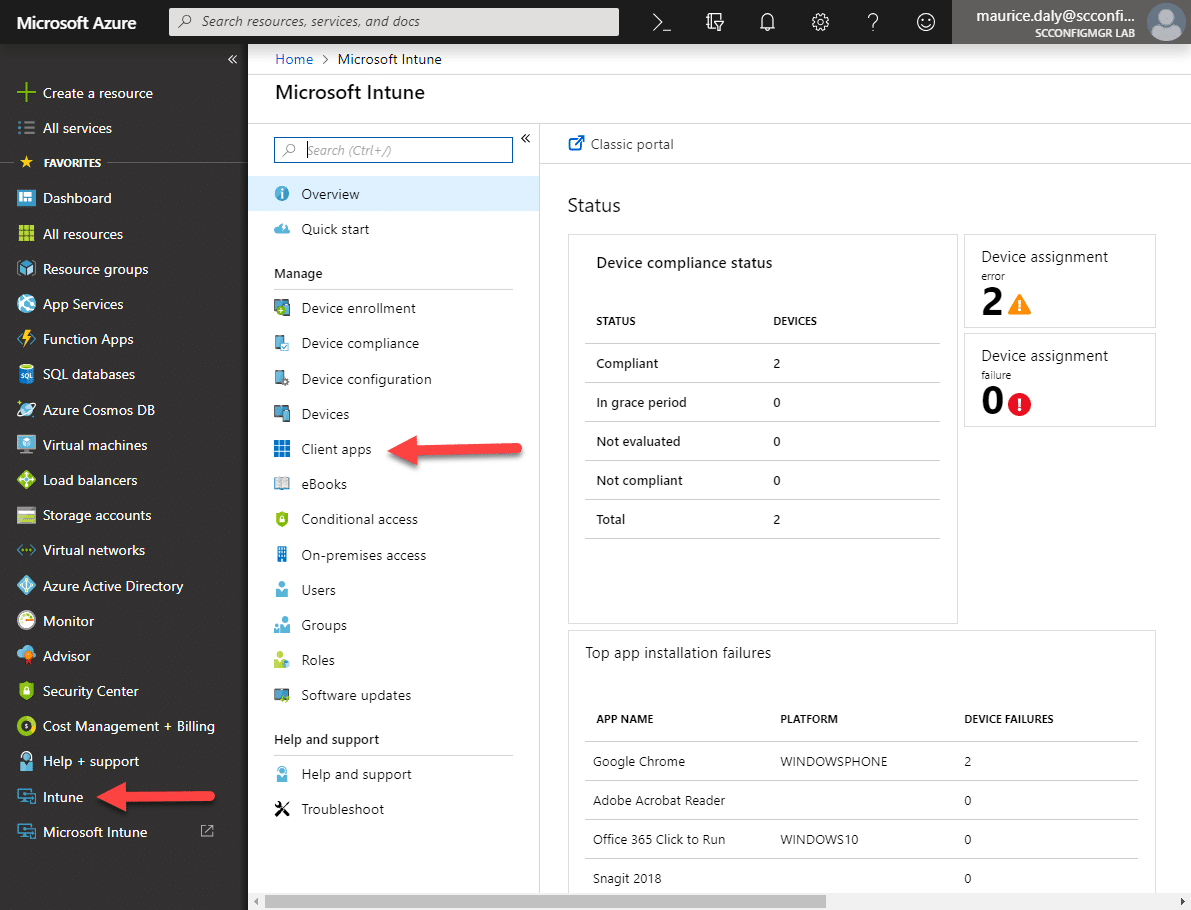 With the Intune blade open, click on Client Apps. In this example I already have two applications enabled for Win32 application deployment, these being Adobe Acrobat Reader and SnagIt which in this instance have already been deployed to my test client machine.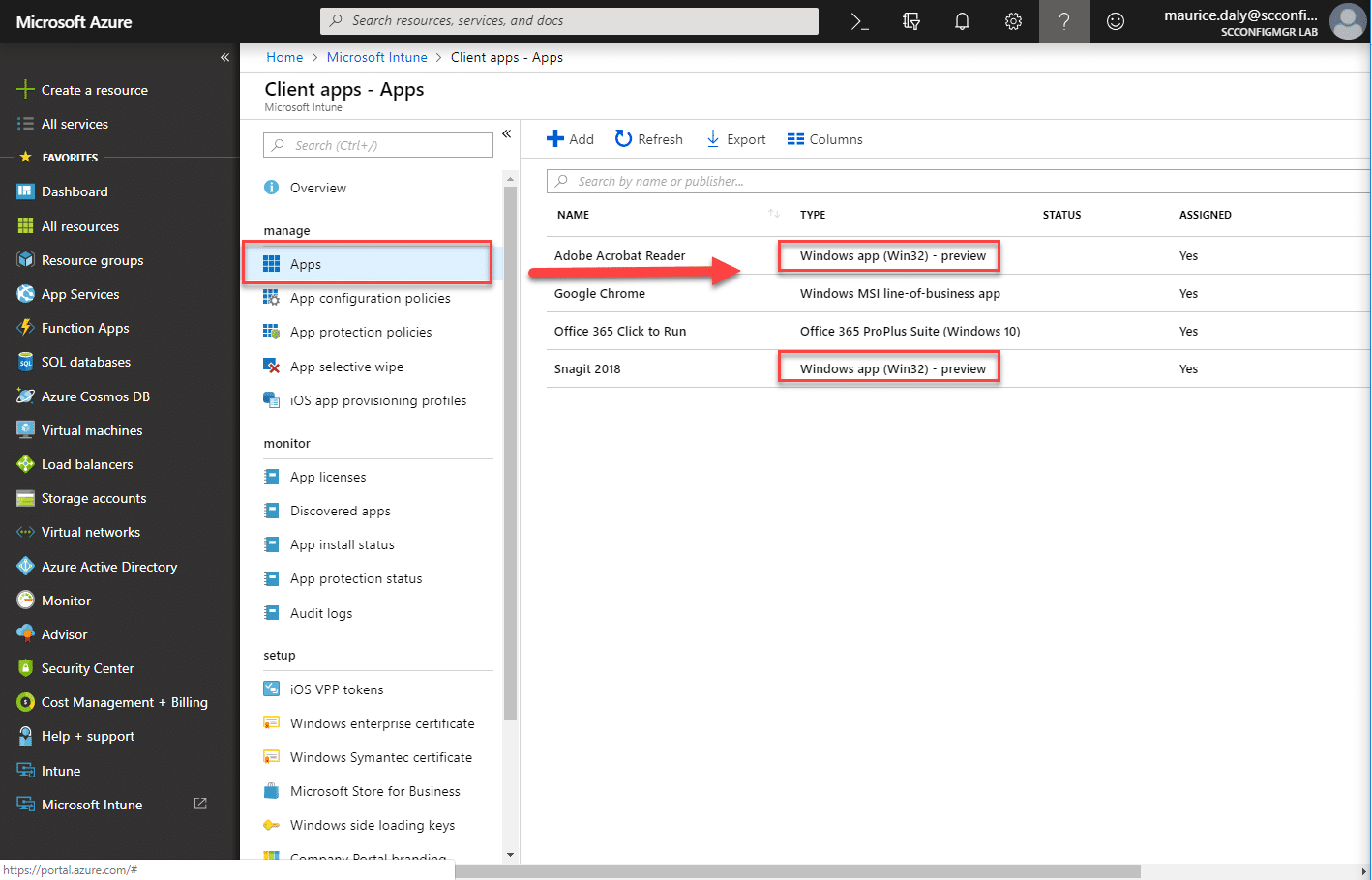 So lets add an additional application to go through the entire process. In this example I am going to use the 64-bit exe installer for 7-Zip. So lets add the application now by converting the exe to a .intunewin file so it can be consumed by the Intune portal.
Conversion Tool Download

The first step is to download the conversion tool from https://github.com/Microsoft/Intune-Win32-App-Packaging-Tool
Now log onto the Azure portal and open your Intune tenant configuration. Running the IntuneWinAppUtil.exe will prompt you for the following information;
Source Folder
Setup File
Output Folder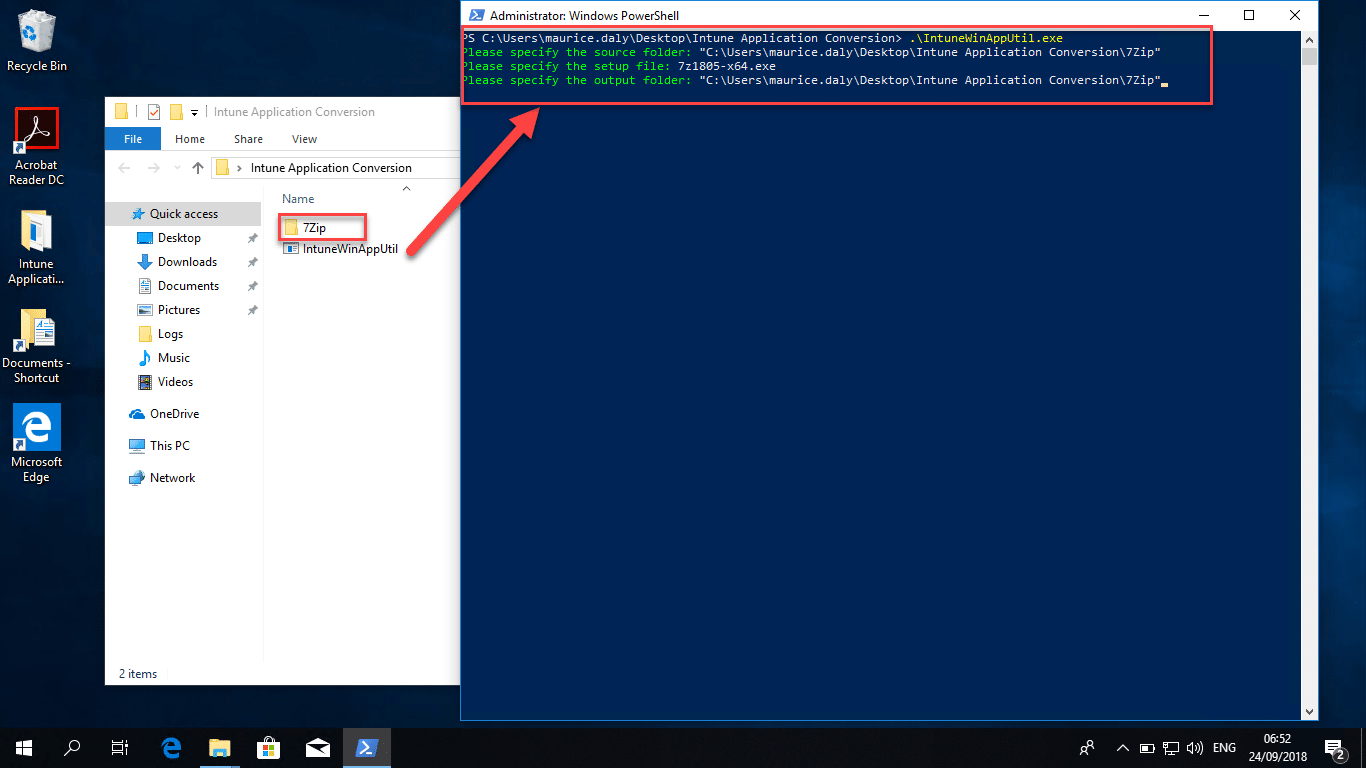 After conversion you end up with a file similar to the following;

You will also have verbose output of the conversion process;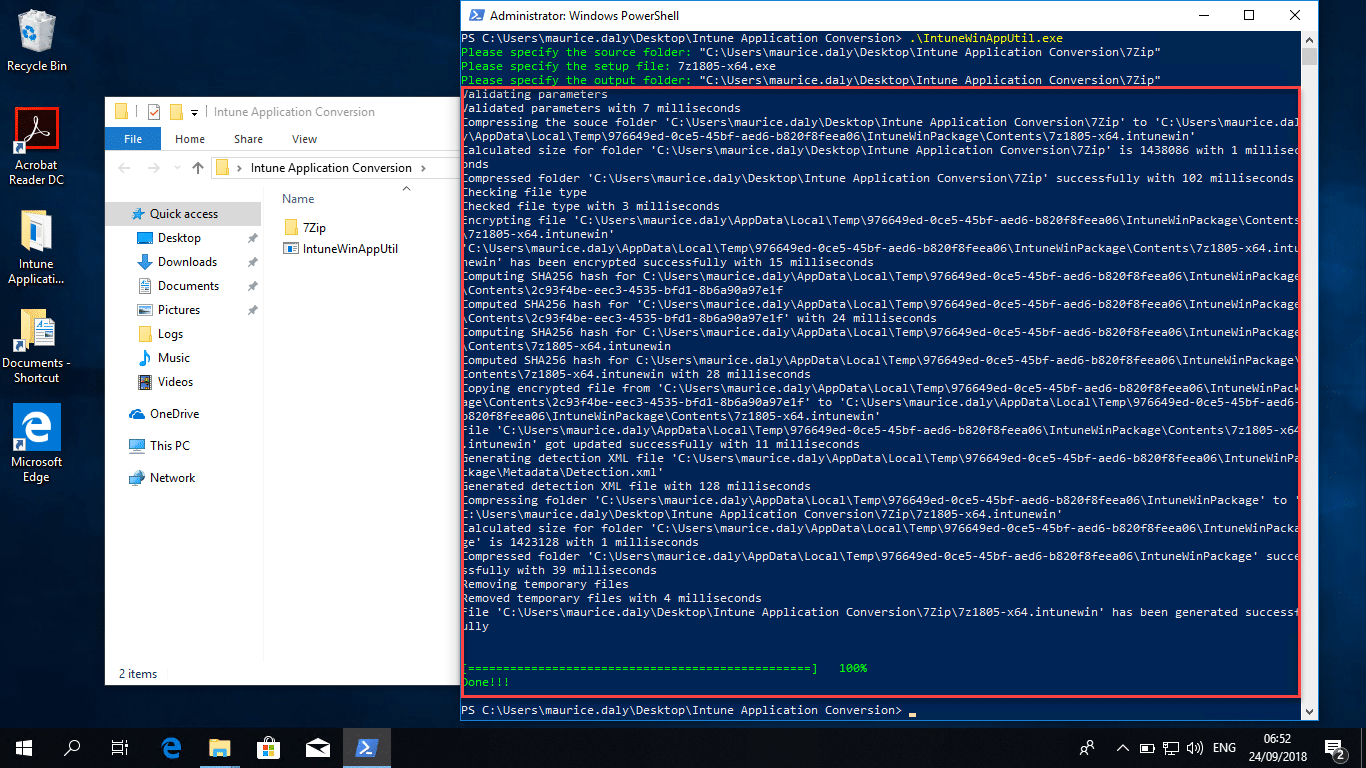 The file itself is basically a containerized copy of the installation source files, in this case a single exe. Now we can proceed to import the file and assign it via the Intune portal.
Click on the Add Application and select "Windows app (Win32")
Select the Package File to import, in this example it is the 7z1805-x64.intunewin file we created earlier;
Enter descriptive App Information about the application you are adding, which will be displayed to the user via the company portal. It is also of course recommended to include an icon file for the application for the best end user experience;
Now we need to click on Program and configure the install and uninstall commands, in this case I am using the /s silent switch as it is a documented switch for the installer.


Vendors usually maintain a list of the installation switches on their download support pages, however another good source reference for common applications is Manage Engines Desktop Central Installation Guide – https://www.manageengine.com/products/desktop-central/software-installation/latest-software.html

Clicking on the Requirements allows you to fill in the minimum build of Windows 10, the system architecture and so on;
A Detection Rule is then required for the Intune management agent to scan for the installed software. In this instance I am only looking for the existence of the 7z.exe file;
Should you need to add additional Return Codes, you have the option here;
We are now ready to Add the app to the Intune portal.At this point the application is uploaded to an Azure storage blob along with the information you have entered to install, display and uninstall the application;
At this point refreshing the list of available applications should result in the new application showing in an unassigned state;
Assigning The Application
The process of assigning the application will be familiar to those already working with Intune, in this example I am simply going to make the application available to all enrolled devices;
Company Portal Experience
For the end user, their experience is as it would be with any other application.
Conclusion
The addition of this easy to use process from Microsoft is yet another leap forward for modern management of devices with Intune. Awesome job guys.
Microsoft Ignite Sessions

For those of you watching or attending Microsoft Ignite, also check out the Wold Café Community session – https://myignite.techcommunity.microsoft.com/sessions/66523?source=sessions#ignite-html-anchor. A fellow MVP Mirko Colemberg is also running a session on Thursday 27th September – https://myignite.techcommunity.microsoft.com/sessions/66407?source=sessions#ignite-html-anchor where this content will also be discussed.
(73208)