Finding Devices in need of Replacement
To start the device refresh process, endpoint managers first need to identify endpoints for replacement this year. Many organizations go about this in their own ad hoc way. For instance, some try to incorporate information about the machine purchase date into their naming convention. This too often leads to confusion if not executed properly.
Another common device replacement strategy is to identify the machines that either already have their warranty expired or are up for expiration this year. Depending on the organization's hardware inventory tracking system, this can be a very tedious task. IT teams must manually gather service tags and then go out and check them against the OEM's warranty checking utility on their individual websites. This process can become a black hole for the team's time, especially in organizations that have device counts in the thousands or tens of thousands.
Identifying devices for replacement is the crucial first step. Only then can the team start to formulate a new hardware budget for the year.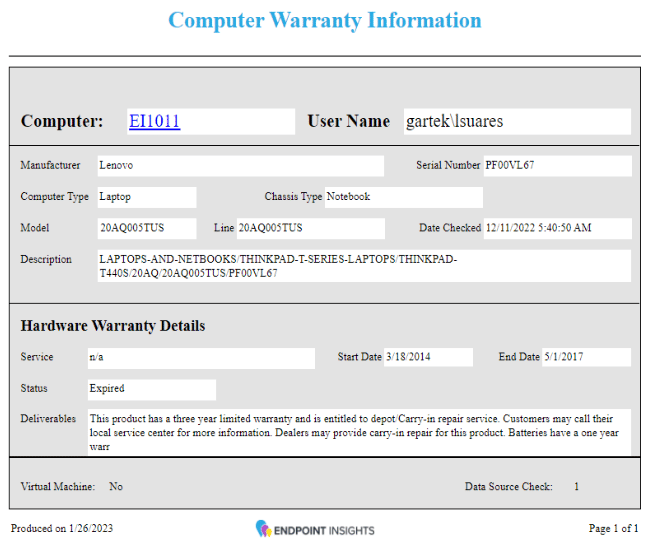 Device Warranty Information Reporting
Endpoint Insights from Recast Software, also the creator of Right Click Tools, reduces this friction with its warranty information reporting. Endpoint Insights gathers information about the devices (make, model, serial number, etc) and then sends it over to Recast where that information is normalized and passed over to the OEMs (over 100 supported) via an API. The warranty information is then returned right to your ConfigMgr database. This allows IT teams to cut out the manual process of checking different OEM's websites to get the warranty information on the devices. This is especially useful after the pandemic caused supply shortages that forced many organizations to buy any hardware available. This often included hardware outside of the company's norm. Endpoint Insights handles all of this for you and makes the information readily available for all your devices with reports that find the warranty information for a single computer or all devices via device collections to ensure you have a clear and complete view of your warranty statuses.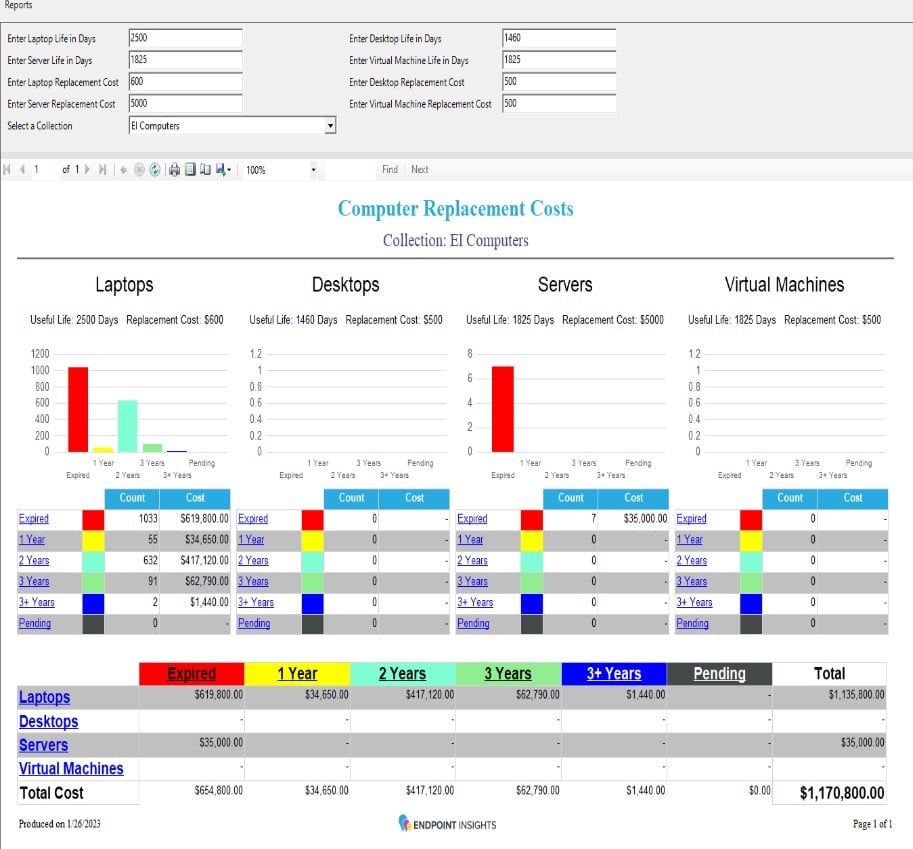 Additionally, Endpoint Insights features a report that is specifically built to both identify devices needing replacement and assist in building a budget. The Computer Replacement Costs Calculator powerfully pulls all your device warranty information into one place and helps you build out a custom budget based upon your specific circumstances. The report gives you a clear picture of all devices currently out of expiration, as well as devices coming up for expiration in the next few years. This adds clarity and accuracy to your budget forecasts and planning. Furthermore, you can input your own data regarding how much you spend per device type (desktop, laptop, server, etc), as well as how long you typically keep each device. With your company-specific data entered, IT teams get a customized budget estimate. No need to pull together your own spreadsheets to gather a rough estimate.
More Thorough Device Replacements
During the execution of a device refresh, there are a few scenarios that often result in additional follow-up appointments for the IT team. Case in point: arriving at the replacement appointment with missing components. This could include missing software, missing printers, or the wrong cables for the current monitor. These tedious issues cause headaches for both the IT staff and the end user, who is now missing hardware or software they need to continue working. More broadly, this issue agitates both the IT staff and end user, reducing confidence and trust in the institution.
Here too Endpoint Insights can assist. In addition to warranty data, Endpoint Insights pulls in supplementary datapoints that provide a more detailed view of your endpoints than ConfigMgr offers natively. These additional data points include monitor information (yes, even the connection type), mapped printers, mapped drives, installed software (including user installed), docking stations, and more. With these pieces of information pulled into ConfigMgr, IT teams can ensure that their end users receive the best possible experience when transitioning to their new devices. The last thing you want to do when making the trek to replace a device is to have to return later because you brought the wrong display cables. It feels terrible reconnecting the old machine, then returning back to the home office without the task completed.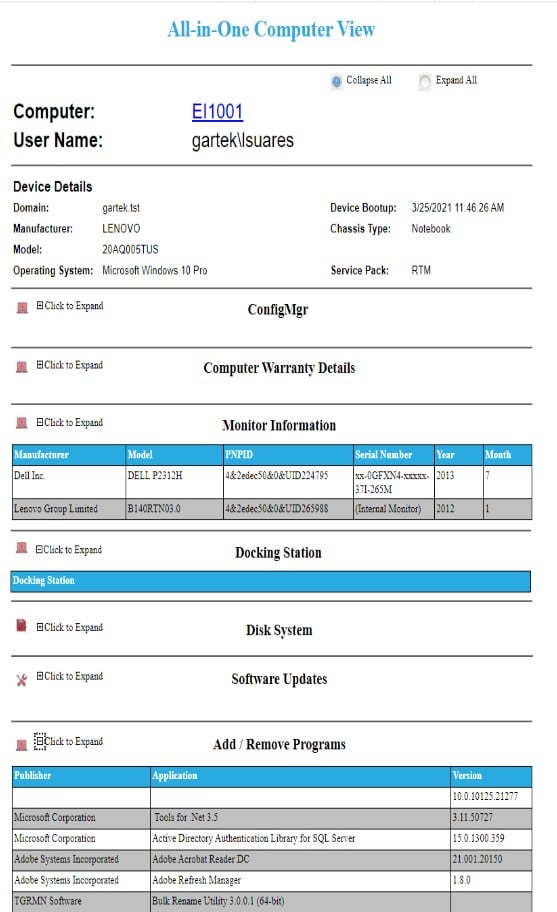 Utilizing these additional Endpoint Insights data points and reports makes it easier to confidently show up to device replacements knowing you have all you need. The All-in-One Computer View report functions as a solid starting point for the computer needing replacement. This report provides valuable information including the monitors connected to the device, any docking station connected, as well as the applications installed on the device. To access this report within ConfigMgr, right click on the device, hover over Right Click Tools, then over Endpoint Insights, and finally select the All-in-One Computer View.

Installing Mapped Drives and Printers on new Devices
To ensure that all the mapped drives and printers are added, Endpoint Insights offers other reports to assist. In ConfigMgr reports, accessible within the ConfigMgr console or in the web portal, all Endpoint Insights reports are stored in the namesake folder. Mapped printers and mapped drives reports are in the "Users" folder, for example. To get a list of all mapped drives on a device check the "Computer Mapped Drive Details" and select the specific computer. This provides a detailed list of all the drives on the device, including the drive letter and the UNC path for the mapped drive.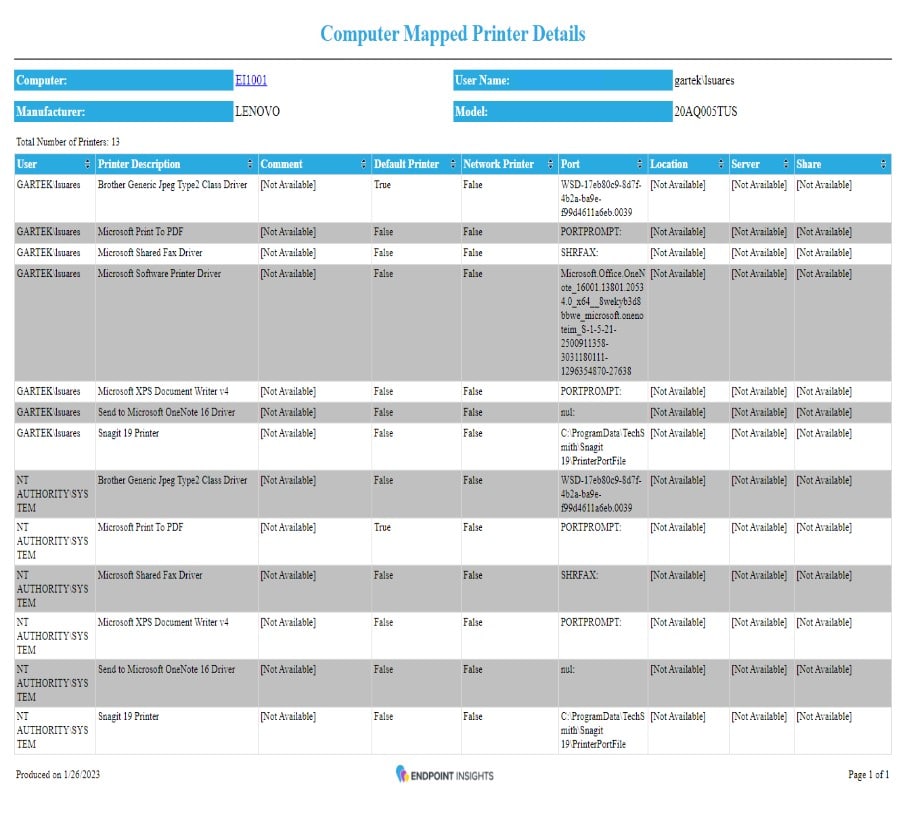 Similarly, for the mapped printers check the "Computer Mapped Printer Details" report to get a list of all the printers on the device. This will detail the port the printer is installed on, as well as the server and share names if it is being hosted on a print server.
Streamline Hardware Inventory Planning and Device Refreshes
Check out this Endpoint Insights page to learn more about the powerful hardware and software data and reports added to your ConfigMgr instance by Endpoint Insights. You can also request more information, including a custom quote here.
Additionally, watch our recent five-part webinar series on Endpoint Insights. Garth Jones and the team dig into many of the core features in this multi-part webinar.
(2128)