Some time ago now, Dell changed the way their public asset warranty API works. Up until now, the previous version of my Dell Warranty Tool 2.0 and earlier versions have not been working since this change. What changed was that Dell decided to require an API key when querying against the API. It has taken some time, but I'm now happy to provide you all with an updated version of this tool that supports the new asset warranty API from Dell. During the development of this new version, I decided to give the UI a slight face lift and convert the tool into WPF instead of Windows.Forms. In addition to using WPF instead of Windows.Forms, I've given the tool a slightly new name as from the previous Dell Warranty Status, where it's now called Dell Warranty Tool.
Obtain an API key from Dell
In order to use this new Dell Warranty Tool, you'll need to obtain an API key from Dell. You can do that by signing up for TechDirect at the following address:
https://techdirect.dell.com
During the process of obtaining an API key from Dell, your key will be put in a Sandbox mode for a period of time. The instructions from Dell will ask you to confirm the functionality of your "application". When asked by Dell to verify the usage of your API key in the sandbox mode, simply just run the Dell Warranty Tool with the Sandbox mode check box checked and email Dell that you've verified your API key. It will then take a couple of business day, perhaps up until a week or two before Dell promotes your API key to what they call production. When you're key has been promoted, simply stop using the sandbox mode in Dell Warranty Tool.
Download Dell Warranty Tool
You can download the tool from TechNet Gallery, on the following link:
https://gallery.technet.microsoft.com/Dell-Warranty-Status-20-ae67cc13
Installation instructions
For this new version, I've decided to not provide a script to handle the installation. Instead you'll have to make do with the manual installation instructions following below.
1. Download the zip-file from the TechNet Gallery and unpack it to e.g. C:\Temp\DWT. You should now have the following files in C:\Temp\DWT:
DellWarranty.xml
MainWindow.xaml
Invoke-DellWarrantyTool_3.0.ps1
2. Close the ConfigMgr console and copy Invoke-DellWarrantyTool_3.0.ps1 and MainWindow.xaml from C:\Temp\DWT to e.g. C:\Scripts\DellWarranty (it's important that you place it in a non-temporary location, since the DellWarranty.xml file will point to this location for referencing the script).
3. Locate the line that starts with <Parameters> in the DellWarranty.xml file.
4. Amend the location specified after the -File parameter pointing to where you've stored the Invoke-DellWarrantyTool_3.0.ps1 file.
-File "C:\Scripts\DellWarranty\Invoke-DellWarrantyTool_3.0.ps1"

5. Amend the string for the APIKey parameter with your obtained API key from Dell and save the file.
-APIKey "YOURAPIKEY"

6. Go to <ConfigMgr console root directory>\XmlStorage\Extensions\Actions. You can get the path by running a PowerShell console and typing:
$env:SMS_ADMIN_UI_PATH

7. Create the following two directories in the Actions folder (unless they already exists):
3fd01cd1-9e01-461e-92cd-94866b8d1f39
ed9dee86-eadd-4ac8-82a1-7234a4646e62
6. Copy the DellWarranty.xml file from C:\Temp\DWT to both of the directories recently created.
7. Re-launch the ConfigMgr console.
Using the console extension
One you have successfully installed the console extension by using any of the installation methods, open the ConfigMgr console, go to Assets and Compliance – Devices and right click on any device.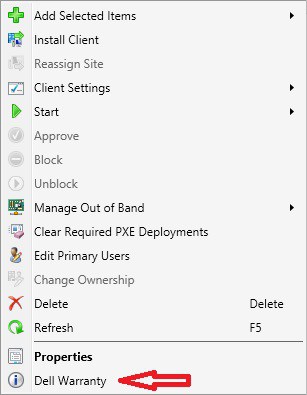 (10196)