In this second post on how to deal with the scenario of converting from BIOS to UEFI, we've come to Dell. This series of post consists of the following:
I recommend that you read the introduction for this series before you continue, since it describes the new capabilities of ConfigMgr Current Branch regarding the native support for BIOS to UEFI conversion. In this post, I've also included how to activate and enable the TPM chip for Dell systems due to the fact it requires a special order of steps to be taken for it to function properly when combined with the BIOS to UEFI conversion.
Prepare required packages
We need to create a package for Dell Command Configure (formerly known as CCTK). In Dell Command Configure, you can still leverage the cctk.exe file to configure individual settings in addition to apply a complete ini file with your configuration. The process of creating a Dell Command Configure package in ConfigMgr has already been very well described by Mike Terrill, so I'll not copy his excellent work. Instead, follow Mike's instructions from the following blog post:
How to create a Dell Command-Configure Package in ConfigMgr
In my environment, I've named my Dell Configure Command package as 'Dell Command Configure 3.1.0.250'. I suggest that you do the same when following along in this post. As a friendly reminder, distribute the package to your Distribution Points.
This package will be used to configure the settings on the Dell systems so that we can make the actual configuration switch from BIOS to UEFI.
Task Sequence configuration
As for the task sequence configuration, the steps below are part of a native ConfigMgr task sequence. MDT integration is not described in this post, but I'd assume that with the layout of steps below you'll be able to figure out how to incorporate the same configuration into a MDT integrated task sequence, if that's what you're using.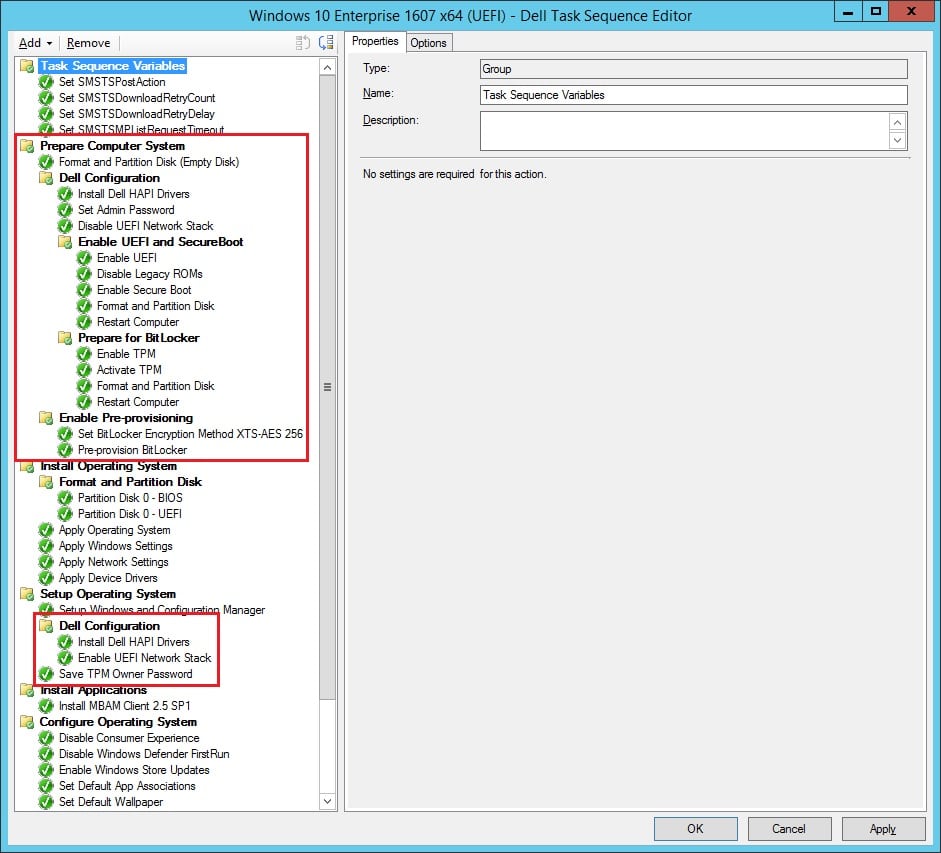 Below are the individual steps for a successful BIOS to UEFI conversion including enabling and activating TPM for Dell systems.
NOTE! Since WordPress converts a double dash (- -, had to add a space character here) into a single dash, all steps below that reference the cctk.cmd file in the Command line should contain a double dash for each parameter passed along.
Format and Partition Disk (Empty Disk)
Dell Configuration
Install Dell HAPI Drivers
Set Admin Password
Disable UEFI Network Stack
Enable UEFI and SecureBoot
Enable UEFI
Disable Legacy ROMs
Enable Secure Boot
Format and Partition Disk
Restart Computer
Prepare for BitLocker
Enable TPM
Activate TPM
Format and Partition Disk
Restart Computer
Dell Configuration
Install Dell HAPI Drivers
Enable UEFI Network Stack
(51573)